Collaboration Andy Mannhart - Royal Hospitality Qatar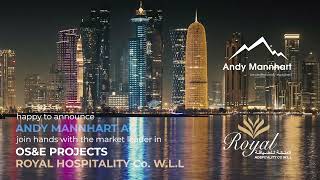 Qatar - here we come….
When local expertise meets local experience: Very happy to announce, that Royal Hospitality Co. W.L.L. with CEO Dipu Korah and his team will represent Andy Mannhart AG in Qatar.
Royal Hospitality with over 15 years of experience is the market leader for OS&E projects. We are all very excited to serve our clients with a strong team in this booming market.
Dipu Korah started his career with Andy Mannhart almost 20 years ago – great to have the family complete again.
Play video
Send feedback
Share
Show all blogs
A
Top