AM Complete OS&E 2020/2021 Interactive Catalogue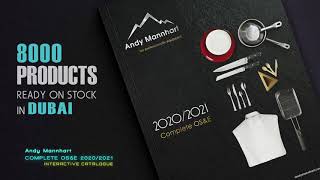 8000 OS&E products ready on stock in Dubai …
Andy Mannhart is happy to present the Complete OS&E 2020/2021 Interactive Catalogue – featuring 8000 products available in the Dubai warehouse.
This means Andy Mannhart can equip a major OS&E project ex stock Dubai. This will massively shorten the lead time as well as the logistics cost for markets in Middle East, Asia and Africa.
Please click here to get access to the FULL INTERACTIVE PDF CATALOGUE
Remark :
For better reading and to make use of all Interactive tools, please download the pdf catalogue and open it in Adobe Acrobat Reader or Foxit Reader !
Play video
Send feedback
Share
Show all blogs
A
Top