Venta buffet design reinvented ...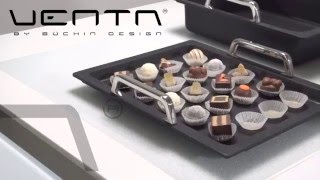 VENTA's high-quality buffet furniture with stylish cocktail- & buffet tables. They can be folded up or stacked together to save space and assembled / disassembled in just a few easy steps. All buffet furniture is mobile. A perfect match for a flexible but yet very design wrapped hotel, event or catering operation.
VENTA: a Büchin Design GmbH Company with decades of experience in creating a unique recognizable design language.
Great Venta pictures click here
Play video
Send feedback
Share
Show all blogs
A
Top